The San Francisco Bay Area is blessed with lots of natural and architectural wonders. If you love to shoot landscapes, you won't run into a place with more variety. Yosemite is the best in providing the extremes of nature in relatively small and concentrated geographic location, but for a traveler or a local, the Bay Area is unsurpassed in its easy access to many breathtaking vantage points.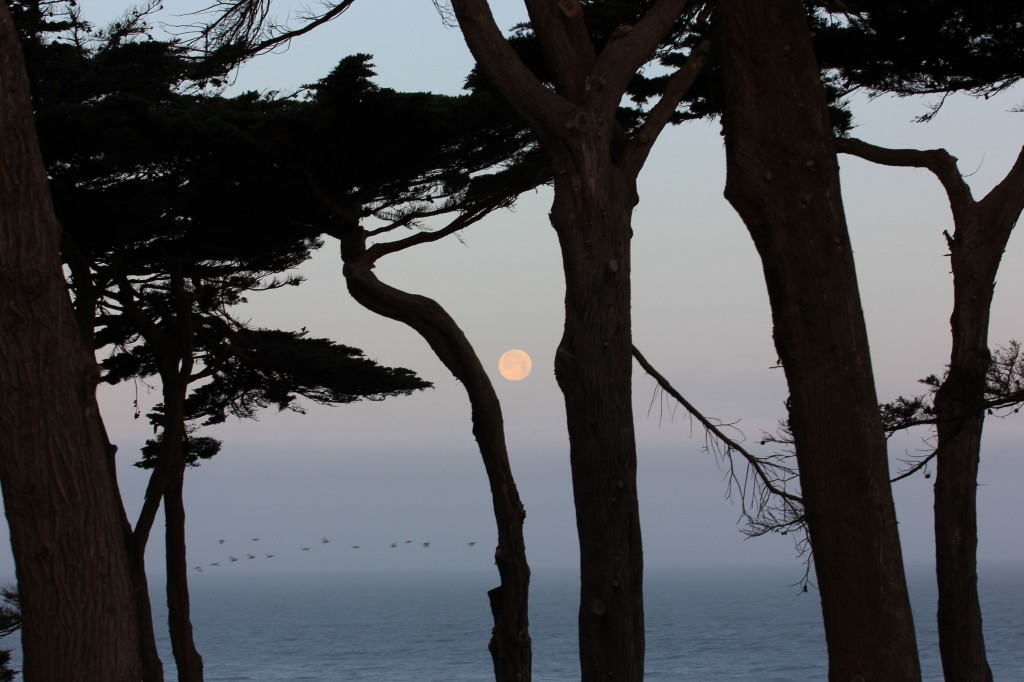 The moon between the trees at Lands End
The Lands End trail hike starting from Sutro Baths never fails to reward every visit. Along the trail you can find all sorts of birds from sea gulls to white-crowned sparrows. The trail alone is home to over 200 species of birds.
While hiking along this trail, you'll see dramatic rock structures and the Golden Gate Bridge. Marvelous vistas make for great spots for setting up a tripod and shooting. Unfortunately, it can get windy and this can be an obstacle to getting any good telephoto shots. However, anything from 85mm to ultra wide is great.
Another great spot for landscape photography is across the water, north of San Francisco. Marin county is home to only one of 2 waterfalls that plunge into the Pacific. Also, it is home to many great spots for photographing the Golden Gate Bridge and the San Francisco skyline.
The weather along the coast of San Francisco is ever changing and dramatic. There's fog, cloud cover, and not so often, sun. If you are going to be outside lots while doing landscape photography, the key is having layers of clothes to stay warm and not too hot, nor too cold.