On Sunday I went to one of the World Wide Instameets happening at Berkeley. The hosts were Cory Maryott (Cal class of 2014), and Instagram denizen, Milkstachio. I personally brought some dahlias and sunflowers as part of a hashtag project I'm working on. More on that later. I felt the photo walk was well-timed for catching the sunset and getting dinner later. Also, there were some spots with great light that were part of the walk.
The co-host volunteered to pose for my hashtag project, #dudesholdingflowers. But honestly, everybody gets flowers. See below.
I asked Danielle McGuinness to pretend to have a conversation with the flower.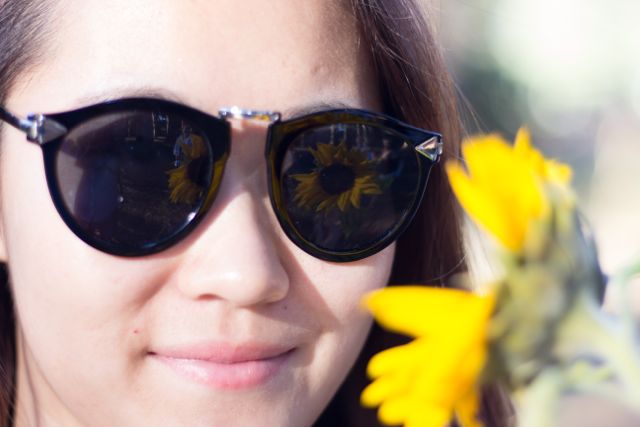 The refection of the flower in Queena Li's shades was too hard to resist.
Some adventurous folk went out on a ledge.
For dinner, the group with to Pieology, a pizza place that only makes personal sized 10″ pizzas made to order. The conversations that interested me were from a guy who shoots great landscapes that recently moved here or one of the pro-photographers that showed up. "Can I be your second shooter (for a wedding)?" "How do you get a social media job?" "Where's a good place to shoot in SF?" or questions about the iPhone 6 were bandied about.
After dinner, the group split up. Most of us went to Berkeley BART. One of the younger guys was eagerly taking street photos on the lamp-lit street of Telegraph Avenue. Of that, someone said, "That's a real photographer."