I've seen Sicario and Arrival, and both had far more emotional resonance than Blade Runner, and Blade Runner 2049. In Sicario, I felt the loss of innocence of Agent Kate Macer played by Emily Blunt. In Arrival, I mourned for Louise Banks' daughter which set the emotional tone for the rest of the film. These are both masterful films by Denis Villeneuve who is the director for Blade Runner 2049.
Neither Blade Runner had that emotional resonance. I thought Roy Batty's poetic language before dying was beautiful. Gaff's line, "Too bad she won't live, but then again who does?" still sticks with me for its sang froid. I thought the "love" scene between Rachel and Deckard which teetered between rejection, and near rape, made me feel very uncomfortable. Yet, where was the emotional core?
The sequel to Blade Runner, Blade Runner 2049, is even worse at evoking an emotional response. Like a reverse Voigt-Kampf test, if this movie left you feeling nothing, then you're probably human. Yet, I can't dismiss it. There are certain visuals that haunt me. There's a scene where Officer K (Ryan Gosling) arrives at a dystopic orphanage, that looks more like a junk yard, where a sea of charges are made to take apart green computer boards. This harkened back to a visual that might more be seen in Alfonso Cuaron's Children of Men.
I could not find fault with the world-building which extends Ridley Scott's original vision, and at the same time has a Villeneuve and Cuaron feel to it. The visuals delighted. The world is headed to the ecological breaking point: sea walls to protect the city because the glaciers have melted.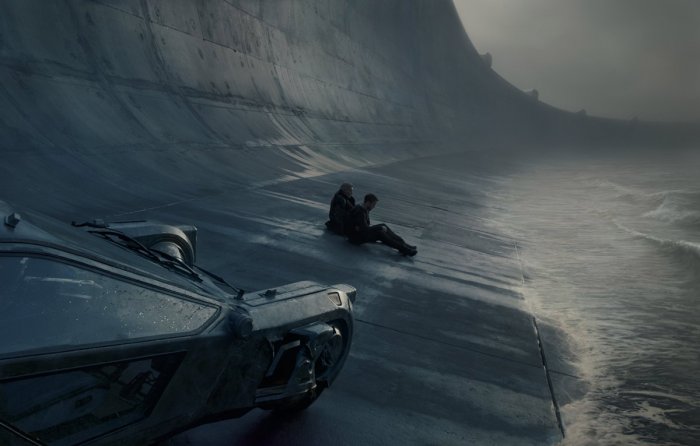 The philosophical questions raised by this Blade Runner sequel are the same as the last one (can an android be human?) except with the addition of the idea of a skin job revolution derivative of Battle Star Galactica (RDM).
It just gets worse and worse, both in Hollywood, and in dystopias, so maybe the replicants should take over.